For Fathers Day today, I received a couple of albums. By received I mean I went to the record store, chose them, paid for them and brought them home. I picked up a copy of the 2018 Mercury Music Prize winning 'Your Queen Is A Reptile' by Sons of Kemet. Of course they didn't actually win, Wolf Alice actually won, but this is better than that in my view.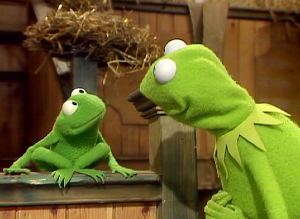 I do tend to always read it as SONS OF KERMIT though, and then visualise Robin his nephew. I wish this weren't true but it is and I can't seem to stop doing it now. Anyway, this is their third album, I haven't heard the other two yet but really, really like this one. While it is filed under Jazz, which is quite right, I hear quite a fair bit of Ska in it as well and other influences.
Sons Of Kemet are born of many vital elements, a name that nods to ancient Egyptian culture, and a line-up that comprises some of the most progressive 21st-century talents in British jazz and beyond. Band-leader, composer and sax and clarinet don Shabaka Hutchings brings together his fiery vision alongside London-based bandmates Tom Skinner and Seb Rochford and latest addition Theon Cross. – That's what it says on Bandcamp.
I sat listening to the album and then had a little browse to see where they would be playing in the UK this year. Much to my surprise I already have tickets to see them in July, as they will be at the Bluedot festival, which I'm going to, possibly alone now as my son isn't going to be around, my best friend in the whole wide world refuses to go and my good lady wife is very much on the fence about it. That's fine, I can do alone.
For reference and in relation to my earlier point, below is a list of the nominees for the Mercury Prize, in which there are a couple I don't think should be there but otherwise it's quite a good list, but I think it generally accepted that Wolf Alice was the safe choice of winner.
2018 Hyandai Mercury Prize shortlist in full:
Arctic Monkeys – Tranquility Base Hotel & Casino
Everything Everything – A Fever Dream
Everything Is Recorded – Everything Is Recorded
Florence & The Machine – High As Hope
Jorja Smith – Lost & Found
King Krule – The Ooz
Lily Allen – No Shame
Nadine Shah – Holiday Destination
Noel Gallagher's High Flying Birds – Who Built The Moon?
Novelist – Novelist Guy
Sons Of Kemet – Your Queen Is A Reptile
Wolf Alice – Visions Of A Life
They are playing on the Saturday at the festival but I have difficulty be able to see if they are on at the same time as Kraftwerk or not, if they are then, much as I like them, I will probably be watching Kraftwerk. There are a lot of bands at the Bluedot Festival that I've never heard of, but I see that as a real positive, it's an opportunity to discover new things and if I don't like what I'm hearing very much I can go to another stage and see what's happening there.